The College of Liberal Arts and Sciences offers specialized advising for students interested in pursuing future professional studies in a variety of health careers. Advisors encourage and support students in evaluating strengths and weaknesses, life goals, and their intended career path within individual appointments, small group sessions and workshops, as well as webinars. Students will be guided in the incorporation of prerequisite coursework alongside bachelor's degree requirements to enhance their professional credentials and expand future career possibilities.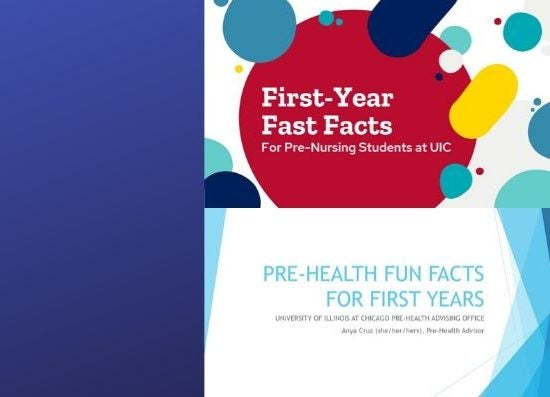 Pre-Health Advising would like to extend an extra welcome to our incoming first-year and transfer students! Many of you are already thinking about what you would like or need to do during your first semester or year as a pre-health student at UIC. And, well, we have some answers! Pre-Health advisors have recorded Fast and Fun Facts for First-Year Pre-Health Students and we are excited to share them with you. Enjoy and we look forward to connecting with you this year!
Watch our Fast and Fun Facts for First-Year Webinars!
Where pre-health advisors are located on campus Heading link
Pre-Health Advising has moved! Sort of…
When we are physically on campus, you can now find all of Pre-Health Advising, including Pre-Nursing, Pre-Health Information Management, Pre-Nutrition, and Pre-Public Health in the Pre-Health Advising Center in the West wing of the Science and Engineering South Building (205 SES). Students interested in all health professions can find advisors there!