Health Professions Forum
Since 2018, UIC has put together a Health Professions Forum for the purpose of introducing UIC students to a variety of health professions fields and practitioners. The Health Professions Forum has been a collaborative initiative involving both Pre-Health Advising and Career Development and Major Exploration in the College of Liberal Arts & Sciences, the College of Applied Health Sciences, and the UIC Career Services office. It is through this collaboration that we have been able to connect students with such a broad array of professionals.
The goal of the Health Professions Forum has never been to introduce students to a doctor, a nurse, and a dentist, though we often have individuals encompassing those fields join us as panelists. Rather, we want to provide students with the opportunity to connect with practitioners who work in a variety of roles - respiratory therapist, medical research, health and wellness in public schools, community advocacy, and more. In previous years, the Health Professions Forum was a multi-hour event with 20+ practitioners/panelists and about 100 UIC students. We returned to an in-person Health Professions Forum in Fall 2022 with 10 practitioners/panelists and many UIC students, which we look forward to continuing in future years.
In 2020, we faced the knowledge that our fun, crowded, engaging Health Professions Forum needed to move online as it was not safe to congregate in such a large group. The format changed from one multi-hour event to four shorter sessions over four weeks. We continued the Health Professions Forum in 2021 in the online format, allowing us to invite UIC alumni and friends from all over the country to connect with UIC students. As we returned to campus in 2022, we also returned to an in-person Health Professions Forum. However, the virtual Health Professions Forum was so successful that we have remained committed in 2022 to providing a virtual panel as well! Please enjoy the edited recordings of our Health Professions Forum! The Panelists Guide with information on panelists and community partners can be found as a PDF within each Health Professions Forum webinar.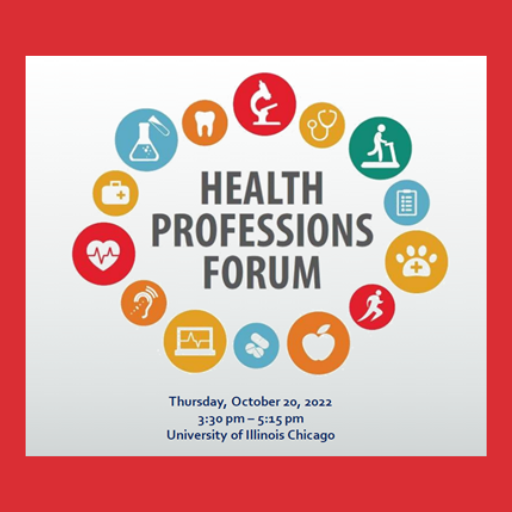 This was an online event held on October 26, 2022 where students had the opportunity to connect with UIC alumni working in a wide range of health related industries.  We heard about different health careers that can be pursued with a bachelor's degree and beyond and were inspired by the career stories of our panelists. The virtual Health Professions Forum allows us to connect with alumni and others located around the U.S.!
Sponsored by LAS Career Development, LAS Pre-Health Advising, the College of Applied Health Sciences, and UIC Career Services.
Watch the 2022 Virtual Health Professions Forum!